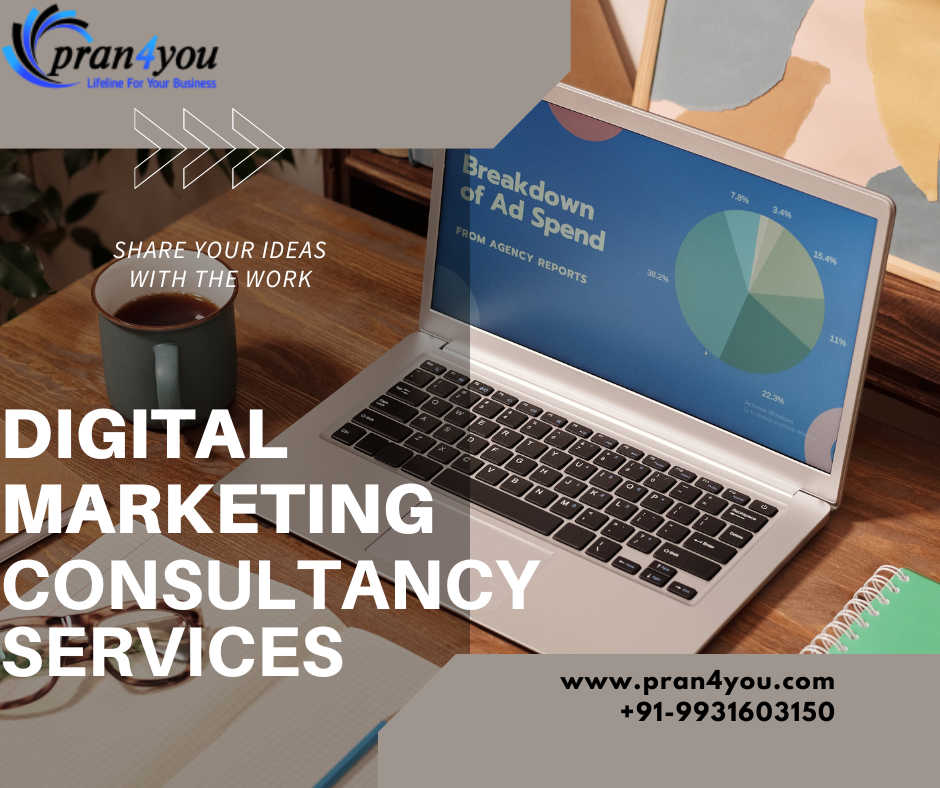 Pran4you is the Best Digital Marketing Firm in Patna to provides the best online and offline solutions for businesses that want to generate more leads and sales. We believe that everyone should have access to high-quality, cost-effective services, tools, training, and technology to help them succeed. Our goal is to become a leader in the industry and create a lasting reputation for delivering exceptional customer service and innovative strategies.
Our services include ( Website Design, Web Development, Search Engine Optimization, Social Media Marketing, and App development). Our team has experience of many years in the IT sector. We use the latest technologies and tools to create high-quality websites, software, app, etc. We have done many projects like SEO, SMO, SEM-based Campaign Management (Google Ads, Facebook ads, LinkedIn Ads ) & Lead generation, Website designing & development, and also mobile app development. We provide SEO-friendly websites at affordable prices. Our team consists of experienced professionals who work together toward achieving our client's goals.
OUR MAJOR SERVICES ARE:
Website Designing & Development
Website design is the process of building a web page that attracts and retains visitors. A good website should have effective navigation to keep visitors on the site longer and make them feel comfortable while they are there. The layout of the web page is also important for users to navigate easily and effectively. In addition, a well-designed website is search engine friendly and mobile responsive, ensuring that the experience is optimized across platforms and devices. Many types of visual elements go into designing a website. These range from color palettes to imagery and typography to graphics.
Search Engine Optimization (SEO)
Search engine optimization, or SEO, is the practice of helping websites appear higher in search results on major search engines like Google, Bing, Yahoo, etc. When someone does a search online for something, search engines use keywords to find relevant content. If you want your business website to show up in front of people who may be searching for services, products, or information related to what your business does, then SEO is going to help. There are many different aspects to SEO, and you need to hire an experienced professional if you want to get the best out of your efforts.
Social Media Marketing
Social media marketing is a type of Internet marketing in which businesses market their products or services by creating accounts on social networking websites. This is done by posting status updates, photo tags, videos, and links to the business' profile on Facebook, Twitter, YouTube, LinkedIn, and other social networks. These posts are called social media content and can attract new followers and promote engagement with current followers. This type of marketing can be a great way for businesses to reach people based on mutual friends, interests, or locations. You can market your product or service on lots of platforms including YouTube, Facebook, Instagram, Pinterest, and Twitter.
Email Marketing
Email marketing uses email as a method of communication rather than a phone call, text message, or social media post. Emails allow your customers to stay connected to your brand 24/7. Companies use emails to send targeted messages, promotions, and updates directly to their leads or customers. Email marketing has many forms including transactional emails, promotional emails, newsletters, and automated series of emails. Depending on how you use the tool, email marketing can be a powerful form of digital marketing.
Pay-per-click advertising is a type of internet advertising where businesses pay a fee each time their ad appears at the top of the list on search results pages. You can create ads using special software programs, or you can advertise through third-party companies. Advertisers set a budget before they begin and the system clicks through various sites until the user finds a site that matches the advertiser's budget. Most of these systems take a cut of the advertiser's budget whether or not the user actually completes the action. Pay-per-click can be a great way to increase traffic to your business website.
Our Features:
We assure quality service at the best price.
We offer a 100% satisfaction guarantee.
24/7 Support for any issues related to the project.
On-time Delivery guaranteed.
Customer Satisfaction is our top priority.
You will get a complete report after the completion of the project.
Best price guaranteed.
No hidden charges.
100% Original/Genuine work.
Payment terms:- Online/ Offline Both
Free updates for a lifetime.
CONTACT US
We are the Best digital marketing company in Patna Bihar. We are ready to serve you 24/7. For any query regarding our work please feel free to contact us anytime and we will get back to you ASAP…
Our Website: https://pran4you.com/
Email Id: info@pran4you.com
Contact NO. : 9931603150
Address: West Bailey Road Saguna More, Danapur Cantt, Near Bimal Hospital, Patna – 801503